Introducing our latest collection.
No. 6 forks have always been designed and tested for the way you ride. Strength, ride quality and versatility are the hallmarks of all of our products.
Our latest model revisions take our product a step further with new branding, increased tire clearances, lower weights, conventional 1-1/2" tapered steerers, and optional internal routing.
Maximalist features, minimalist style
All No. 6 forks are packed with features, cleverly hidden. Our disc forks use subtle, easy to guide internal cable routing and flat mount disc brakes. Standard fender mounts are mounted on the back surface of the fork so they're available when needed, and hidden when not.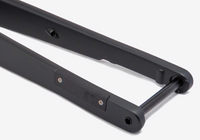 Subtle branding
Through their quality finishes, meticulous construction quality and clever detailing every No. 6 fork is crafted to beautifully complement your frame. On the right side fork leg, a 3D printed plate adds a subtle touch without detracting from your frame's aesthetic. Customization and 3D printed titanium plates are available for framebuilder orders.